Where it Began
Stoller Trucking began from humble beginnings, a solid work ethic and the determination to ride the highs and lows of growth. Brian, owner of Stoller Trucking, attributes his work ethic to growing up on a grain & commercial hog operation in rural El Paso, IL. After graduating from college with a degree in Ag Business, he decided to purchase several dump trucks for local construction work. As opportunities presented themselves, Brian soon found himself in a position to leave his roots on the farm and grow the trucking business. In 1997, Brian added a few semis and tankers hauling liquid cattle feed for a company in Springfield, IL. As that company grew, Stoller Trucking, LLC evolved by providing exceptional customer service to meet its volume needs in the Midwest. Trust was built with customers by Brian's willingness to take a last-minute load to help a customer in a tough spot even if that meant jumping in a truck himself to fulfill the request. As industry connections were made, Stoller Trucking became more diversified by adding flatbeds, hoppers, dry vans, anhydrous bottles, live floors and tankers. As the company grew, Brian had the financial means to add trailers faster than trucks, which made owner/operators key to sustainability.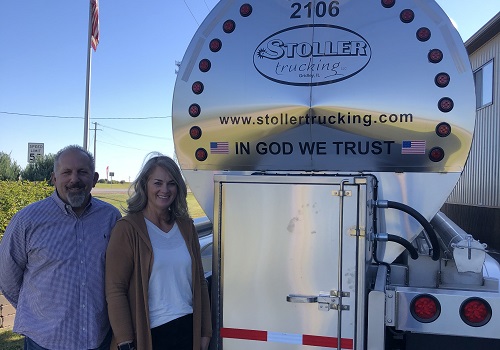 Stoller's Growth
In the early years, Brian and his wife, Hayley ran the growing trucking company out of a small shop and office trailer on the same piece of property where they lived. As the business outgrew the location, they were able to buy a piece of property in the nearby town of Gridley along route 24 in 2005. The original property has undergone several additions and renovations as Stoller Trucking, LLC continues to grow; as well as adjacent properties for parking and body shop repairs.
Stoller Trucking, LLC currently runs 75 trucks in non-hazard, tanker freight and dry box freight.  Stoller contributes its success to their exceptional drivers and loyal customers.  Drivers and customers are considered partners, which helps immensely with projections and long-term goals in an ever-changing industry.