Top Non-Hazardous Tanker Trucking Company in Ohio
Stoller Trucking can partner with your business if you are looking for a liquid or bulk freight tanker trucking company in Ohio. Our trained tanker truck driving specialists and stainless steel trailers take the hassle out of liquid and bulk freight shipping. Plus, our expansive service area gives you access to hauling services throughout 21 states, including Pennsylvania, the Midwest, and the Southeast. In fact, we can take care of all your general freight, food grade, and feed grade product shipping needs. Our fleet of 75 trucks and experienced drivers can safely and efficiently haul truckloads of your goods when and where you need them. Do you need more information about us or our services? Contact us and our company will work quickly to get you the answers you want!
Why Choose Our Tanker Trucking Company in Ohio?
Stoller Trucking understands that you have many options when you are shopping for services from a tanker trucking company in Ohio. However, we work hard to stand out from the crowd with resources and services that offer you greater return on investment. When you choose us for your bulk freight or liquid transportation needs, we provide you with the following benefits:
Cost Savings with Bulk Purchasing – Is your company tired of paying the excessive fees from buying individual tanks, drums, or crates of the materials you need? Stoller Trucking can save you money by hauling bulk purchases directly to your facilities.
Convenience – If you need to ship liquid goods, you understand how difficult it can get to load or unload your products on trucks. However, Stoller Trucking makes the process easier by providing you with all the hoses, pumps, and equipment needed to load and unload liquid goods quickly and easily.
A Priority on Safety – Our drivers receive the training it takes to safely haul your truckloads across country, ensuring that they remain in good condition when they arrive at their destination.
Dry Van and General Freight Services
Stoller Trucking also can handle all your conventional dry van and general freight trucking needs. In case you are unfamiliar with the term, dry vans are standard enclosed trailers. We use our fleet of 75 trucks and experienced driving professionals to take truckloads of your goods safely to their destination. When you choose our dry van and tanker trucking company in Ohio, you receive the following benefits:
Customizable Solutions – We give you flexibility to transport as much of your goods as you need. You can choose from a full truckload, partial truckload, and less than truckload.
Precautions that Avoid Contamination – Our company restricts our dedicated trucks to hauling only one or two kinds of truckloads. As a result, we eliminate the risk of contamination inside our trailers.
Unloading on Your Timeline – We drop our trailers off at your facilities and leave them there for your company to unload trailers on a timeline that works for your business.
The Biggest Capacity Available – Our company uses 53-foot van trailers, the largest trailers available for dry van and general freight hauling.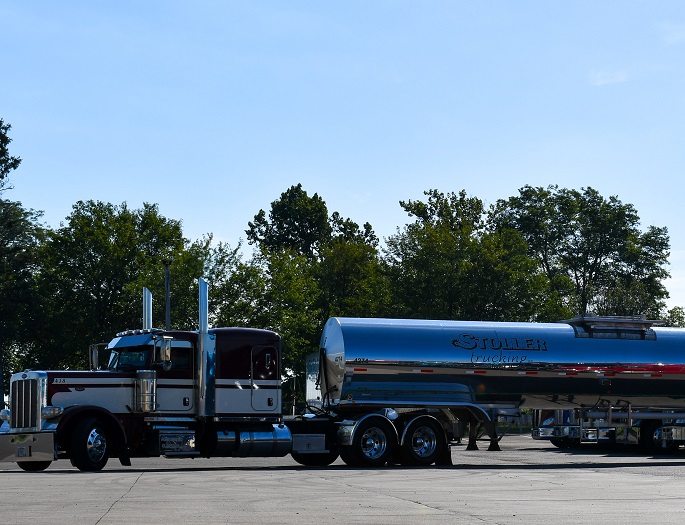 Are You Looking for an Exciting Opportunity?
Then, you are in luck. You can work for the best dry van and non-hazardous tanker trucking company in Ohio. Stoller Trucking is hiring! We are always looking to add quality members to our team in both driving and non-driving roles. Make a change that helps you accelerate your career to the next level with the Midwest's premier trucking services provider. Use our website to apply online or learn more about becoming a company driver, owner operator, or independent carrier.
Get In Touch with Us
Do you need services from the best non-hazardous tanker trucking company in Ohio? Then, let Stoller Trucking haul your goods safely, swiftly, and affordably. Let us know how we can assist you by calling 309-747-4521, emailing info@stollertrucking.com, or using our online contact form to reach us.