Who Can You Count On for Expert Dry Van Trucking in Ohio?
Few businesses in the Midwest don't require some degree of shipping services. Whether getting products delivered to your store or needing your goods shipped to sellers, trucking is an integral part of the process. And nowhere can you find more reliable, local dry van trucking in Ohio than with the experts at Stoller Trucking. With only a few trucks in 1997, Stoller has grown to over 75 trucks and trailers, supplying Midwestern businesses with the shipping they require.
Answering Your Dry Van Questions
If you've driven on the highway for any time, you've seen a dry van trailer. Dry vans are used across the United States, helping transport non-perishable goods from one location to the next. This reliable form of transportation is perfect for any length of route, from local deliveries to long hauls. Most importantly, with expert drivers from Stoller, you can rest assured, knowing your deliveries will always be safe, secure and on time.
What Are Dry Vans? – Dry vans are popular enclosed trailers for shipping non-refrigerated goods. They are widely used throughout the United States and are highly sought after by companies seeking reliable transportation services.
Are Dry Vans Safe? – Dry van trailers are designed to keep your goods dry and protected from external factors such as rain, wind, sleet, and snow. These enclosed trailers offer a secure and safe way to transport your goods without the risk of damage.
What's the Size of Dry Van Trailers? – There are various sizes of dry van trailers available, with the most frequently used ones being between 48-53 feet long and capable of carrying a maximum weight of 45,000 pounds. Additionally, smaller dry van trailers, known as pup trailers, measure between 26-28 feet and can carry up to 22,500 pounds.
What Can Dry Vans Transport? – A dry van truck is suitable for transporting non-perishable goods and products. From food and beverages to clothing, electronics, building materials, consumer packaged goods, large machinery, and more, Stoller has facilitated transporting a wide range of products via dry vans.
What Can't Dry Vans Transport? – Dry van trucks are limited to transporting goods that do not require controlled temperatures, such as perishable or refrigerated items. They are also unable to transport bulk materials or liquid products. Fortunately, Stoller has liquid tankers available to meet those specific shipping requirements.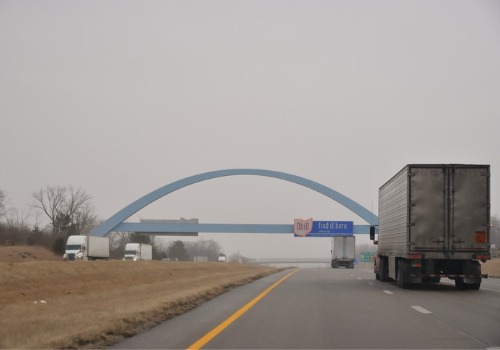 Stoller is Hiring!
In addition to offering dry van trucking for Ohio businesses, Stoller Trucking is looking to grow our truck-driving family! We are hiring company drivers, owner-operators and independent carriers to join our ranks. With local and long-haul, high-compensation routes, excellent benefits, incentives and sign-on bonuses, we seek to provide the most for drivers. If you are interested in truck driving jobs near you, fill out a career form online.
Contact Our Office
Whether looking for reliable shipping or a career change, count on Stoller Trucking and our dry van trucking for Ohio. To learn more about our services or career opportunities, call Stoller today at 309-747-4521. Or, you can reach us via our contact form or email: info@stollertrucking.com.