Place Your Trust in Midwest Trucking Companies
As Midwestern businesses look for ways to quickly and effectively transport products, truck drivers are searching for the best local routes and jobs. Thankfully, both drivers and businesses can connect through Midwest trucking companies! Finding a local trucking company is essential to your business's success and the best way for drivers to find their preferred local routes. No matter your need, Stoller Trucking can assist with our expert dry van freight and bulk/non-hazardous liquid tanker shipping services.
The Advantages of a Local Trucking Company
You've likely heard of many of the "big-name" trucking companies out there. While these companies can offer you the services or jobs you need, they won't offer the same level of quality, care and support as local companies like Stoller. Whether a business or truck driver, local trucking companies are your best option.
For Businesses – Having a local trucking company for your shipping needs ensures deliveries are always quick, safe, and affordable. Stoller Trucking is one of the go-to Midwest trucking companies with area expertise other large shipping companies can't match. Moreover, hiring a local trucking company ensures you support the businesses and workers of your community.
For Drivers – While many truck drivers drive coast to coast every week, going such distances and being away from home for so long isn't for everyone. However, with local trucking companies, there's an alternative: local trucking routes. If you drive with Stoller, our routes are all focused within the Midwestern region of the U.S. By keeping trucking jobs local, truck drivers can stay closer to home and have more control over their routes and time off.
Stoller Now Hiring!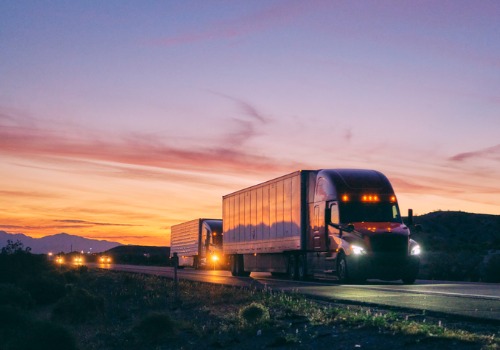 At Stoller Trucking, we're always hiring new and dedicated drivers wishing to join our trucking family. We strive to offer some of the best benefits and highest-paying routes compared to other local companies. Stoller is hiring drivers for direct company operations or contracting jobs to independent drivers.
Company Drivers – If you are starting your trucking career, company driving provides the support and training you'll require. As a company driver, you receive a truck, equipment and trailer directly from Stoller. Our dispatch team manages your routes and schedule, and you have available benefits such as insurance coverage, sign-on bonuses, gas cards and more.
Independent Drivers – Owner-operators and independent carriers can find excellent, high-paying routes with Stoller. We offer our independent drivers our highest compensation jobs to help compensate for some of the expenses incurred through truck ownership. Moreover, as an independent driver, you can choose your own truck, equipment, routes, loads and schedule. You can be your own boss!
Give Us a Call
Forget national trucking companies and opt for the local experience and convenience of Midwest trucking companies like Stoller Trucking! Whether looking for a job or requesting shipping services, you can contact Stoller Trucking today at 309-747-4521 or via our contact form or email: info@stollertrucking.com. Apply for a job with Stoller Trucking! We offer jobs and services for drivers and clients throughout Illinois, Iowa, Wisconsin, Missouri, Michigan, and throughout the Midwest.