Drive with the Best Trucking Companies for Wisconsin
The freedom of driving on the open road, matched with excellent pay and great benefits, is hard to beat! It's why so many people are leaving the office and starting work with trucking companies for Wisconsin. You, too, can start your career as a truck driver by working with the best truckers throughout the Midwest. Stoller Trucking supplies drivers with high-paying, local routes, helping new and experienced truckers advance their careers.
Why Begin a Career as a Truck Driver?
Few other professions are as unique and necessary as truck driving. Experienced drivers cross our country daily to deliver materials, products and goods to businesses in need. Without truck drivers, the United States' supply chain would cease functioning! However, if the vital role truckers play for our country isn't enough to pique your interest in truck driving, these additional benefits might:
Reliable and Secure Work – Due to the importance of truck driving, new drivers are always in high demand. This means there are always jobs and routes for truck drivers, guaranteeing consistent work and job security unmatched in many professions.
Excellent Pay & Benefits – Besides job security, drivers can expect a sizeable income. On average, the base starting pay for new truck drivers is almost 70K per year. With plenty of opportunities for advancement, not to mention sign-on bonuses, gas cards, etc., trucking careers offer excellent pay and benefits for new and experienced drivers alike.
Greater Flexibility – If you choose to drive independently, you have greater flexibility over your job choices and hours than you would with any other profession. You can choose the routes and schedule that best suits you and your family's needs.
Easy to Start – If you already have your driver's license, you're well on your way toward acquiring your Commercial Driver's License (CDL). Within a minimum of seven weeks, you can earn your CDL and begin driving with your choice of trucking companies for Wisconsin.
The Open Road – As already mentioned, truck driving will take you across the country, driving the open road. With trucking companies like Stoller Trucking, our routes take you to the breathtaking sights, locales and vistas across our country's beautiful Midwest.
Taking a Job with Stoller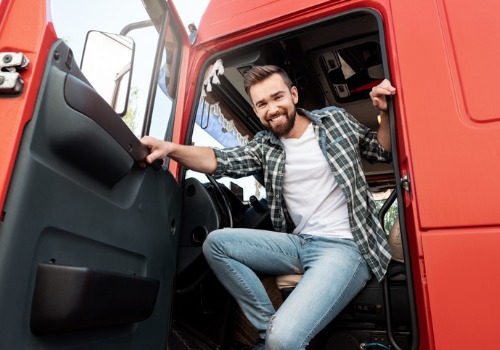 If interested in truck driver jobs, Stoller Trucking offers a range of options for new and experienced drivers. Get your start trucking as a company driver, or make a name for yourself working independently but alongside Stoller's team.
Company Driver – As a company driver, you receive direct support through Stoller. Company drivers are supplied with a company truck and equipment and are assigned routes via our dispatch crew. Additionally, our company drivers can access benefits like company insurance policies, sign-on bonuses, and more.
Owner-Operator – If you don't wish to work directly for Stoller, you can instead work with our team as an owner-operator. Our owner-operators are given access to our extensive list of high-compensation routes and the freedom to set their schedules.
Independent Carrier – Independent carriers receive all the same benefits and freedom as owner-operators, except for driving under Stoller Trucking's driving authority. This way, independent carriers can still operate "independently" but take jobs in areas where they lack trucking authority.
Contact Stoller
No other trucking companies in Wisconsin can match the same excellent compensation, benefits, flexibility, and tight-knit team experience as Stoller Trucking. To learn more about Stoller Trucking and the truck driver jobs we offer, contact us today at 309-747-4521 or via our contact form or email: info@stollertrucking.com. Apply for a job with Stoller Trucking!