Find Exceptional Truck Driving Jobs in Milwaukee WI with Local Trucking Companies
Whether you're a truck driver with years of experience, or a new driver fresh off earning your CDL, Stoller Trucking has a place for you! Our family-owned company functions much like a family as we strive to build a friendly and welcoming company culture for our drivers and staff. Moreover, we seek to support our drivers with incredible benefits and excellent compensation with our truck driving jobs in Milwaukee WI. If interested in seeing what trucking companies for Wisconsin have to offer, call Stoller Trucking!
Trucking Jobs to Match Your Professional Preferences
Some individuals work better under a controlled and organized system, while others prefer the freedom to choose and make their own decisions. Each work style has benefits, and Stoller Trucking can appeal to both. Whether as a company driver or an independent driver, you can find the truck driver jobs that best suit your work style with Stoller.
Company Drivers
Are you new to truck driving? Company driving with Stoller is a great way to introduce you to the trucking profession. With company support and additional benefits offered to drivers, new and old truckers can significantly benefit from working directly with Stoller. Some of the advantages of company driving include:
No Operating Costs – Unlike independent driving, where you're responsible for your truck and equipment, Stoller supplies our company drivers with company vehicles and trailers. Using company trucks takes truck ownership and operating costs out of our drivers' hands. Instead, leave the maintenance of your truck up to Stoller's body shop crew.
Consistent Work & Pay – With company driving, there's no searching for your next route or job. Company drivers have their routes assigned to them via Stoller's dispatch team. We ensure our drivers always receive consistent work with flexible schedules and weekly pay.
Insurance Options – Working directly for Stoller Trucking means you can access our extended benefits. For example, you can apply for Stoller's company insurance and receive coverage for health, dental, vision, life, and occupational accidents.
Independent Drivers
Through independent driving, our drivers can "be their own boss!" Owner-operators and independent carriers are responsible for supplying and maintaining their trucks and equipment. However, the tradeoff is more freedom and control over the various aspects of your trucking job. Many truck drivers prefer independent driving for reasons like: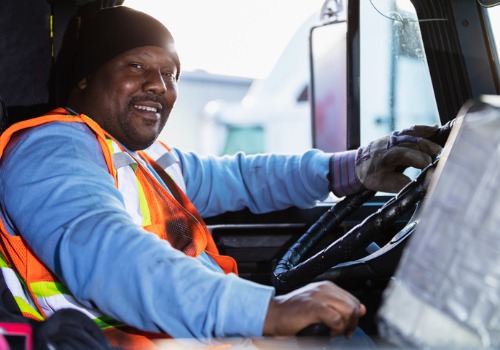 Increased Compensation – To compensate for the extra ownership and operating costs you'll incur as an independent driver, Stoller trucking offers our owner-operators and independent carriers access to our best-paying routes. Additionally, independent drivers receive a higher percentage of compensation for routes completed.
Choice of Routes and Loads – Instead of having routes assigned by dispatchers, independent drivers get to choose their routes. This means selecting the jobs located where you prefer and hauling what you're most comfortable with. Whether you want only local routes or only haul dry van freight, the choice is yours to make!
Control of Schedule – Besides choosing route locations and load types, independent drivers can set their own schedules. It can be stressful planning work around vacation time, doctors' appointments, etc. Not to mention, when accidents or illness arise, you want to be able to take a day off. Through independent driving, time management is in your hands.
Call Stoller Today!
There's never been a better time to start truck driving jobs in Milwaukee WI with local trucking companies in the state. If you are interested in a trucking career, find the best local routes, benefits and compensation with Stoller Trucking! To learn more about job opportunities with Stoller, call today at 309-747-4521 or via our contact form or email: info@stollertrucking.com. Apply for a job with Stoller Trucking!