Work for the Best Trucking Companies for Kansas City MO
Trucking companies for Kansas City MO are on the hunt for new drivers! Truck driving is an excellent profession that's open to anyone. Whether you've never gotten behind the wheel of a semi or are intimately familiar with the inside of a truck cab, there's a truck driver job for you. And when driving with Stoller Trucking, you have access to some of the best routes, benefits and compensation in the Midwest. Call Stoller Trucking today to learn more about our job offers, or fill out our career form!
What's to Love About Truck Driving?
Truck driving isn't your average job. Rather than an office job or a job in retail, our drivers work on the open road! Not to mention, trucking offers some excellent benefits and compensation that other professionals will find hard to beat. Some of the biggest benefits of truck driving jobs include:
Friendly to New Drivers – Are you new to truck driving? Not a problem! Acquiring your Commercial Driver's License (CDL) is an easy enough process, which only takes a minimum of seven weeks (unlike some traditional career options). And if you drive with Stoller, we can help you earn your CDL.
Great Pay – Did you know the average yearly salary for truck drivers starts at an average of 70K? It's true! Not including sign-on bonuses, gas cards, and other benefits, truck driving is an incredibly lucrative profession with plenty of room for you to grow.
Excellent Job Security – Stoller Trucking and other trucking companies for Kansas City MO are always looking for new drivers. There are always new routes and job opportunities, so our drivers are never without work. When truck driving, you have some of the best job security of any profession.
Unique Work Opportunities – As already mentioned, the open road is your office! The uniqueness of truck driving makes it an appealing career choice for many individuals. Truck driving allows you to see and experience some of our great nation's beautiful sights, landmarks and locales.
Working with Stoller
As a driver with Stoller, you have three career options: company driver, owner-operator or independent carrier. Each choice has its benefits, giving our drivers the most flexibility for how they prefer to work. And by working with Stoller, we assist our drivers in selecting the profession that best fits their lifestyle and experience level.
Company Driver – As a company driver, you work directly for Stoller. Company driving earns you benefits like a company truck/trailer, additional insurance coverage, an organized route/schedule, consistent weekly pay, career growth opportunities, and more.
Owner-Operator – Instead of working directly under Stoller, our owner-operators work independently of but with our company. Owner-operators are responsible for their truck and equipment but are given some of the best-paying routes and have the most freedom regarding routes and schedules.
Independent Carrier – Our independent carriers work similarly to our owner-operators. The major difference, however, is the trucking authority of an independent carrier (or lack thereof). If you don't have trucking authority to operate in the Midwest, completing routes for Stoller means you can operate under our authority.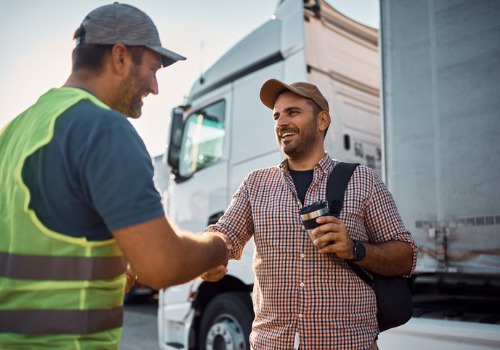 Talk with Our Team
Still not sure if truck driving is right with you? For any questions about trucking jobs, benefits, compensation, and local trucking companies for Kansas City MO, you can talk with the experts at Stoller Trucking. Learn more about our career opportunities by contacting Stoller at 309-747-4521 or via our contact form or email: info@stollertrucking.com. Apply for a job with Stoller Trucking!