Move Bulk Products with Ease Thanks to Bulk Transport in Green Bay WI
As your company continues to churn through new products and increase productivity, you require the resources and materials to keep up with consumer demands. However, if you don't have quick, reliable access to such goods, you'll quickly fall behind. On the opposite side, if you are a company looking to deliver raw goods and materials to your clients, you must be able to do so quickly, safely and affordably. Thankfully, Stoller Trucking has the answer with our bulk transport for Green Bay WI. Learn more about our non-hazardous liquid/bulk freight shipping by calling today!
What Industries Is Bulk Shipping Best For?
Many industries can benefit from bulk shipping. However, the businesses and facilities that process or utilize raw materials find the most usage from bulk transport in Green Bay WI and throughout the Midwest. Some examples of the industries we serve with bulk shipping include:
Agriculture –Stoller Trucking specializes in transporting agricultural products, including cattle feed, grain, and fertilizer. We work closely with farms in Wisconsin and surrounding states to safely and efficiently deliver dry and liquid bulk products. Our dedicated team ensures farmers can bring their goods to market with peace of mind and reliable logistics solutions.
Mining – Transporting loose and raw materials can be challenging, especially without proper equipment. But at Stoller Trucking, we've got facilities part of the mining industry covered. Our specialized tankers and trailers effortlessly transport gravel, sand, ore, and other materials, ensuring non-hazardous bulk products reach their destination promptly.
Manufacturing – To meet the ongoing production demands of your industry, large factories and manufacturing facilities require a constant supply of fresh materials. Stoller offers a reliable delivery schedule that ensures your facility remains active and productive by providing a steady stream of new materials.
Food Processing – To ensure consumer health and safety, transportation requirements for food products are stringent. At Stoller Trucking, we comprehensively understand regulations for non-hazardous liquid and bulk food transportation. Our trucking professionals diligently safeguard your food products during transit, prioritizing their safety.
Why Rely on Stoller?
At Stoller Trucking, we go above and beyond for our clients. We understand your business's shipping and delivery needs, promising prompt and secure delivery, no matter the product or load size. As such, with our non-hazardous liquid/bulk shipping services, you can expect:
Clean, Dedicated Tankers – To avoid cross-contamination between different shipments, our tankers are "dedicated," meaning each is utilized for one or a few types of products. Furthermore, we give our tankers thorough cleaning between each load, further reducing the risk of cross-contamination.
Expert Drivers – Bulk shipping and tanker transportation require specific training and certification for drivers to implement safely. Thankfully, with Stoller Trucking, you can be confident in the experience of your drivers, each having gone through the tanker trucking training and certification process.
Maximum Shipment Sizes – Without a tanker, many of the raw goods and materials you transport would have to be packaged in individual drums, barrels or containers. However, such packaging is wasteful and can't take advantage of the whole space of a dry-van trailer. With Stoller's tankers, you can maximize shipment sizes and minimize waste.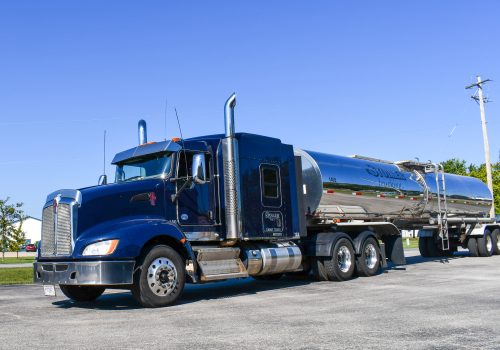 Talk with Our Team
You don't have to look far when searching for reliable, local bulk transport in Green Bay WI! Leave your non-hazardous liquid and dry bulk shipping to the experts at Stoller Trucking LLC. Learn more about our delivery and transportation services by calling 309-308-1630 or email info@stollertrucking.com. Or, if interested in a career in trucking, Stoller is always hiring new drivers; fill out our career form here.