Need Dry Van Trucking in Wisconsin? Call Stoller!
Stoller Trucking is the go-to local trucking company for businesses and manufacturers throughout the Midwest. With expert drivers, competitive rates, and a growing fleet of over 75 trucks and trailers, you can't go wrong with delivery from Stoller. And for businesses looking for dry van trucking in Wisconsin and throughout the Midwest, you're in luck! Our drivers have an in-depth understanding of local routes and highways, ensuring we always deliver your loads safely and on time. Call Stoller Trucking today to learn more about our services.
Understanding Dry Van Shipping
Dry vans are used in most shipping and delivery jobs across the United States, allowing for the safe and secure transport of most non-perishable products and goods. And with a Stoller driver behind the wheel of your dry van trucks, you can always guarantee high-quality transportation services. Some common features of dry van trailers include:
Enclosed Trailers – Dry vans are precisely that: dry! Those relying on dry van trucking can expect their loads to stay protected against the elements in a completely enclosed container. Factors like rain, hail, wind, etc., won't affect the goods in your dry van!
Varying Sizes – Dry van trailers come in different sizes. The most common sizes are between 48-53 feet and can carry up to 45,000 pounds. There are also smaller dry van trailers called pup trailers, which measure between 26-28 feet and can carry up to 22,500 pounds.
Non-Perishable Goods Transport – Dry van trucks are ideal for transporting non-perishable goods and products such as food and beverages, clothing, electronics, building materials, consumer packaged goods, large machinery, and others. Stoller has been a reliable partner in hauling these items with their expertise in dry van transportation.
Of course, dry van trucking in Wisconsin can't cover everything a company needs to deliver. For example, bulk materials or liquids aren't easily transportable in dry vans. Thankfully, Stoller Trucking has the solution for bulk shipping with our non-hazardous liquid tankers.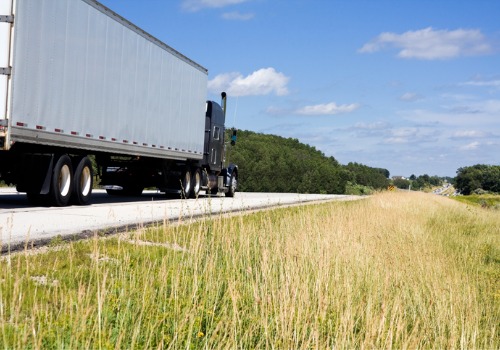 Looking for a Job?
If you're searching for a change in profession, why not consider truck driving? Truck driver jobs are some of the best paying in the country and don't require a formal education or degree. With CDL training, Stoller can get you started as a company driver! Otherwise, more experienced truck drivers can join Stoller Trucking as owner-operators or independent carriers. With excellent benefits, high-compensation routes, vacation time, and more, Stoller Trucking is one of the best local trucking companies you can work for. If interested in a career with Stoller, fill out our career form.
Call Stoller Trucking
Dry van trucking in Wisconsin is necessary for the success of many businesses and manufacturers. As such, Stoller Trucking can supply you with the reliable, high-quality shipping services you require. To learn more about Stoller Trucking, our services, or our various career opportunities, contact us today at 309-747-4521. Or, you can reach Stoller via our contact form or email: info@stollertrucking.com.