Achieve Exceptional Dry Van Trucking for Fort Wayne IN
Is your business searching for reliable, secure, affordable dry van trucking for Fort Wayne IN? You're not alone! Countless businesses throughout Indiana and the Midwest require professional truck drivers' services to manage their facilities' shipping and delivery needs. And when it comes to quality and local availability, Stoller Trucking is the obvious choice! Call Stoller today to discuss options for our dry van trucking.
Answering Your Dry Van Questions
Are you not sure what dry vans are? You've likely passed hundreds while traversing your local highways and interstates. Dry vans are simply designed enclosed trailers that offer safe and secure transportation of non-perishable goods. Whether you need long-haul shipping or local delivery services, dry van trucking in Fort Wayne IN is your company's best option.
Are Dry Vans Safe for Your Goods? – Absolutely! Companies prefer dry van shipping due to its safety and security. Dry vans protect your products from severe storms, wind, hail, sleet, snow, potential accidents, and possible theft.
How Much Can Dry Vans Carry? – Dry vans have excellent carrying capacity and carry products of all shapes and sizes. Dry vans come in sizes of 48-53 feet or 26-28 feet long, with capacities of 45,000 or 22,500 pounds, respectively. With Stoller, you can choose shipping fees based on your load capacity, with options for full truckload (FTL), partial truckload, and less than truckload (LTL).
What Do Dry Vans Transport? – Anything that's non-perishable a dry van can carry. From packaged goods to parts and equipment, Stoller has helped deliver it all! Thanks to our dry van truck drivers, we can provide safe and reliable shipping for items like electronics, clothes, food and beverage, construction materials, industrial machinery, consumer goods, and more.
Can Dry Vans Transport Bulk and Non-Perishable Goods? – Unfortunately, traditional dry van trailers lack the temperature control to transport non-perishable goods and many bulk/liquid products. Thankfully, Stoller provides non-hazardous liquid/bulk tankers for anything we can't ship via dry van!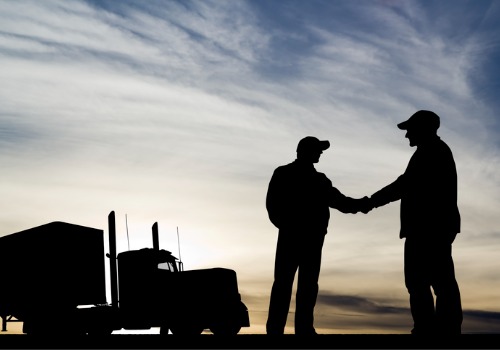 Interested in a Career with Stoller?
As sought-after a service as dry van trucking is, Stoller Trucking is always looking for new drivers to join our team! Whether you're a long-time trucker or someone getting their CDL for the first time, Stoller Trucking has a job for you! Stoller hires company drivers to work directly with our crews and dispatch team. Otherwise, if you prefer to work independently, we partner with and provide work for area owner-operators and independent carriers. Fill out a career form online to learn about the perks and benefits you receive when driving with Stoller!
Give Us a Call
If you're one of the many businesses requiring dry van trucking in Fort Wayne IN, ensure you're getting fast, high-quality service from the best truckers. Give Stoller Trucking a call today! To learn more about Stoller's services or job opportunities, call 309-747-4521. Or, you can reach us via our contact form or email: info@stollertrucking.com.