The Best Choice for Dry Van Trucking in Lansing MI
Have you ever wished your business had a fleet of trucks capable of delivering your goods on time with dry van trucking in Lansing MI? Well, now you do. Stoller Trucking gives your company access to 75 trucks and 53-foot trailers capable of hauling up to 45,000 pounds. Plus, our shipping solutions are authorized to haul loads nationwide throughout 48 states. Our affordable trucking solutions allow you to cut the overhead costs of trying to handle your shipping in-house. In addition, our broad service area spans throughout the Midwest and the Southeast. Contact us today to receive a free freight quote.
Dry Van Trucking Works for Many Kinds of Freight
Stoller Trucking's fleet of trucks can haul lots of products with our services for dry van trucking in Lansing MI. Our dry van trucking solutions can transport the following kinds of goods:
Clothing
Equipment
Machinery
Electronics
Food
Beverages
Packaged consumer goods
Construction materials
Top Benefits of Dry Van Trucking
You get a versatile shipping solution when you choose Stoller's dry van trucking in Lansing MI. Here are some of the best reasons why you should choose Stoller Trucking for your transportation needs.
Safety and Security – Our trailers are built with design features that keep your freight protected from temperature extremes, rain, sleet, snow, and other inclement weather. Plus, your loads are secure from theft in our trailers that have some of the best theft-deterrent features in the industry.
On-Time Deliveries – We know your commitment to your customers to get them the products they need when they need them is important. Therefore, our company takes pride in getting your loads where they need to go at or before your desired delivery time and date.
Large Capacity Loads – Our trailers offer some of the highest strength-to-wait ratios in the trucking industry. So, each of our trailers can haul up to 45,000 pounds of freight per trip.
Services Scaled to Your Business – We understand that not all businesses are the same. Local small businesses do not have the same type of budget for shipping that large regional or national corporations do. As a result, we provide our customers with options designed to suit their business. We let you choose the type of load size to ship. You can pick from a full truckload (FTL), partial truckload, or less than truckload (LTL).
Other Trucking Services Available
Stoller Trucking also provides services for your company if you need transport of bulk good or non-hazardous liquids. We are one of the fastest growing trucking companies for Michigan because we provide versatile solutions. Contact us today to request a free estimate on our bulk transport and our non-hazardous liquid tanker trucking services.
We Are Currently Hiring Drivers
Stoller Trucking has openings available if you are looking to shift gears with your career. In fact, we will consider you even if you have no prior commercial driving experience. If you are just starting a commercial driving career, you can get the training and certifications you need with our help. However, we always welcome experienced drivers, too! Also, we give you flexibility to decide how you would like to join our company. You can apply for available positions as a company driver, independent carrier, or owner-operator. Plus, we take the hassle out of the application process. You can quickly and easily use our online job application form to apply in a matter of minutes.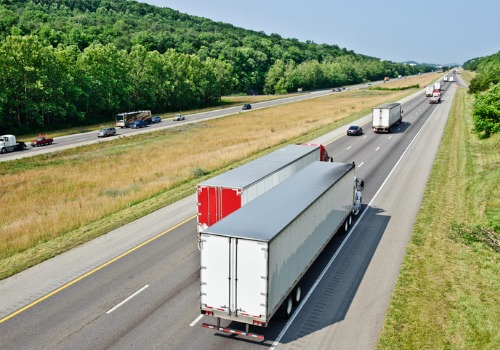 Contact Us for Dry Van Trucking in Lansing MI
Stoller Trucking can deliver big savings to your company compared to trying to handle your shipping in-house. So, get started now by requesting a free estimate for our dry van trucking in Lansing MI. Email us a request online or give us a call now at 309-308-1630.