Should You Choose Truck Driving Jobs in Evansville IN?
Are you considering a career change? Why not truck driving jobs in Evansville IN? Truck driving is one of the most important professions in the U.S., with impressive compensation and benefits from the right trucking companies. Thankfully, Stoller Trucking is one such company. We strive to create a happy, friendly and comfortable company culture because our drivers deserve the best! If you are interested in a career with Stoller, call or fill out our career form online.
Jobs with Stoller
Stoller Trucking helps our drivers fit into their preferred trucking careers. From independent driving to working directly with our company, we offer unique perks and benefits with every CDL (Commercial Driver's License) job. With the right truck driver job, you can find the work-life balance that works best for you and your family. Our truck driver positions include:
Company Drivers
A company driver works directly under Stoller Trucking. This means you are employed by Stoller and entitled to receive the same benefits as all our employees. Company drivers are provided a truck, trailer and equipment from Stoller, weekly pay, and job assignments from our dispatch team. These are some of the additional perks of company driving:
No Upfront or Operating Costs – Because you receive your truck, trailer and equipment through Stoller, company drivers don't pay extra fees for a new truck and equipment. Additionally, all gas and truck maintenance is covered by Stoller and our body shop crew.
Job Consistency/Stability – Unlike independent drivers, where you seek your next job, all work assignments are provided to you as a company driver. Work as a company driver is consistent, and schedules are always flexible.
Additional Benefits – Working as a Stoller employee comes with some additional benefits we can't offer independent drivers. For example, company drivers can apply for health, dental, vision and life insurance coverage under Stoller's company insurance plans.
Independent Carriers & Owner-Operators
Rather than working as a Stoller Trucking employee, you can work as an independent trucker with Stoller! While independent carriers and owner-operators work the same as company drivers, you have more freedom of choice regarding equipment, schedules, routes and more. Here are a few of the advantages of being an independent driver for Stoller: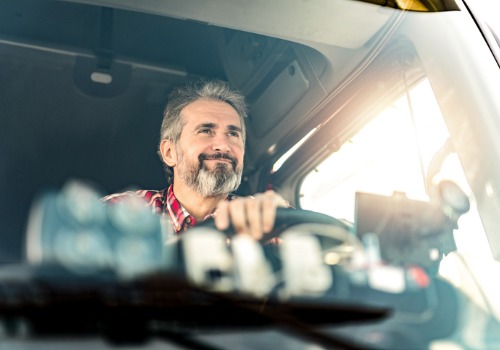 Better Compensation – You are responsible for your own trucks and equipment as an independent driver. Thus, Stoller strives to make up for the cost difference by offering better compensation for our independent drivers. Our owner-operators and independent drivers have access to higher-paying routes with a larger commission cut for each job.
Choose Your Routes/Loads – It might seem minor, but having the power to choose your routes and loads can make a difference! For example, the power of choice means you can select routes closer to where you live. Additionally, being an independent driver allows you to choose the load types you're most familiar with.
Set Your Schedule – If you're concerned about how your trucking schedule will match up with vacation time, sick days, doctor's appointments, etc., you're not alone! Thankfully, working as an independent carrier or owner-operator means you can set your own schedule. As long as you're comfortable with the compensation you receive, you can work as little or as much as you wish.
Call Today
When you're ready to jump into the Midwestern trucking industry, make sure you can always find reliable, high-compensation truck driving jobs for Evansville IN.  Give the freight transportation professionals at Stoller Trucking a call today! Contact us at 309-747-4521 or via our contact form or email: info@stollertrucking.com. Apply for a job with Stoller Trucking!