Where Can You Find Trucking Jobs in Chicago IL?
The transportation industry is the backbone of our nation! Truck drivers throughout the country deliver life-saving medicines, essential industrial equipment, needed food products, and more daily. And at Stoller Trucking, we're always looking for new, bright-eyed and dedicated drivers for trucking jobs in Chicago IL and throughout the Midwest. Likewise, new and experienced drivers always seek out Stoller for our excellent benefits, high-paying routes, and welcoming work environment. If you are interested in driving for Stoller, call today!
The Best Reasons for Being a Truck Driver
Why are so many individuals quitting their day jobs and getting behind the wheel of a semi-truck? Truck driver jobs, unlike your standard 9-5 gigs, give workers a change of pace from their boring office careers. And with the compensation and benefits that companies like Stoller Trucking offer, it's hard not to see why trucking jobs in Chicago IL are in high demand!
Shape Your Career

Trucking driving presents drivers with numerous opportunities to grow or shape their careers. And for independent drivers, this is especially true! Independent drivers have the power of choice and freedom to set their own course with the routes, equipment and schedules they pick. Depending on your trucking career path, you can work for yourself without the trouble of owning your own business.

Experience New Locations

Few jobs present you with the chance to work while you travel. As a truck driver for Stoller Trucking, you'll explore every corner of our country's beautiful Midwest. From St. Louis' Gateway Arch to Mount Rushmore in South Dakota, you'll have the chance to take in some of America's most beautiful and impressive sights, landmarks and locales.

Easy for Anyone to Start

Without a doubt, truck driving can be difficult work. However, the requirements for becoming a truck driver aren't nearly as challenging as other "higher-education" careers. After several months of training and earning your Commercial Driver's License (CDL), you can begin work as a truck driver! Additionally, truck driving offers excellent compensation, having a higher starting income than many jobs requiring degrees.
What Trucking Jobs Does Stoller Offer?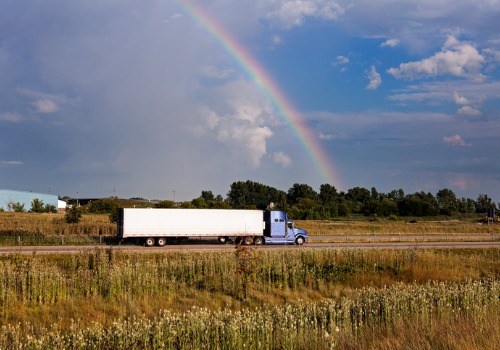 Stoller Trucking has no shortage of trucking jobs for Chicago IL drivers. As a company driver, owner-operator, or independent carrier, you can work with Stoller and experience our tight-knit company culture, excellent benefits, and high-compensation routes.
Company Driver – Stoller's company drivers are provided with Stoller's best trucks, trailers and equipment. All routes and schedules for company drivers are managed by our dispatch team, ensuring consistent work with weekly pay. Also, company drivers can take advantage of additional benefits, such as insurance coverage or sign-on bonuses.
Owner-Operator – As an owner-operator working with Stoller, we help set you up with the routes and loads that best fit your schedule and preferences. Although you are responsible for your own truck and equipment (and operation expenses), owner-operators have access to some of Stoller's best routes, with a higher percentage of compensation for each job completed.
Independent Carrier – Independent carriers working with Stoller have the same freedom and benefits as owner-operators but without the local trucking authority. Stoller can make up for this, as working with Stoller allows you to operate under our trucking authority!
Call Today
With Stoller Trucking, there's no shortage of local, high-compensation trucking jobs in Chicago IL! If interested in a career in trucking, contact Stoller today at 309-747-4521 or via our contact form or email: info@stollertrucking.com. Apply for a job with Stoller Trucking!