Local Trucking Jobs for Kansas City MO Drivers
Trucking is a proud and lucrative profession, with thousands of drivers meeting the urgent shipping needs of businesses across the United States. However, when working for large, nationwide trucking companies, your routes might have you driving from one end of the country to another! Finding reliable and local trucking companies is crucial for those who prefer more local truck-driving jobs. Thankfully, Stoller Trucking fits the bill! If searching for local trucking jobs in Kansas City MO and throughout the Midwest, Stoller has what you need.
Driving With Stoller
Stoller Trucking offers trucking jobs to three types of drivers: company drivers, owner-operators and independent carriers. In supporting company and independent drivers, we give drivers control over how they can work and earn a living. For some, an organized and guided work environment is more comfortable, while others prefer freedom and flexibility in how they work. No matter your preference, Stoller has the truck driver jobs for you.
Company Drivers

Are you new to truck driving? Why not consider company driving? Stoller Trucking offers our company drivers greater support in terms of training, certifications, equipment and benefits. With a truck supplied by Stoller, you are assigned a consistent but flexible schedule of routes by our dispatch team. Our company drivers receive weekly compensation and can take advantage of extra benefits (like company insurance plans).

Owner-Operators

Are you more of a "lone wolf" in the way you work? Do you possess your own truck and equipment? Why not give owner-operation a shot? You can choose your equipment, routes, loads, and schedule as an owner-operator. Furthermore, our owner-operators have access to some of Stoller Trucking's best, highest-paying routes to compensate for some of the cost of truck ownership.

Independent Carriers

Are you already an independent driver but lack trucking authority to operate in the Midwest? Why not join Stoller as an independent carrier? Our independent carriers have all the same freedom, perks and responsibilities as our owner-operators. However, by driving jobs for Stoller, you can operate under our trucking authority, covering States throughout the Midwest.
Supporting Your Needs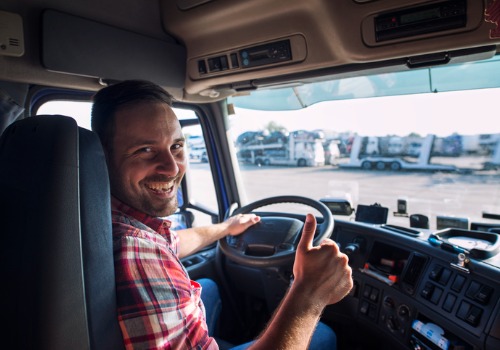 As high a demand for truck driver jobs in Kansas City MO there is, it's no simple job. Our drivers work hard to deliver every load safely and on schedule. And to show appreciation and support for our drivers' work every day, we offer some of the best benefits trucking companies can offer. For example, some of Stoller Trucking's driver benefits and perks include:
Health, Dental, Vision & Life Insurance (Company Drivers)
Sign-On Bonuses
Quarterly Safety Bonuses
Options for leasing or purchasing your truck
Kenworth/Peterbilt trucks and trailers (Company Drivers)
Access to the Stoller Body Shop
Occupational Accident (Occ/Acc Insurance Coverage)
Fuel Card Access
And More
Call Today
Whether you're looking to change your profession or find a trucking company more supportive of your needs, you can find the best trucking jobs for Kansas City MO with Stoller Trucking. To learn more about our company or job opportunities, contact us today at 309-747-4521 or via our contact form or email: info@stollertrucking.com. Apply for a job with Stoller Trucking!