Make the Most of Bulk Transport for Cedar Rapids IA
Are you concerned about your facility's productivity? Has shipping and logistics for bulk goods always been an issue for your company? You're not alone! Countless industries throughout Iowa and the United States require bulk transport to move dry and liquid goods and materials. However, without the right equipment and experience, bulk shipping is challenging to implement. Thankfully, with Stoller Trucking LLC, bulk transport in Cedar Rapids IA is made easy! Call Stoller to learn more.
What Can Stoller Carry?
Stoller Trucking has you covered when it comes to non-hazardous liquid/bulk shipping. Our expert truck drivers understand what it takes to quickly and safely deliver your goods. No matter your industry, we can supply you with the shipping and delivery you need to stay productive. Some of what Stoller Trucking helps haul include:
Food Grade Products

Proper processing is essential before food and drink reach your table in convenient packaging. And how do you think consumable products are transported prior to being packaged? That's right, through bulk transport! At Stoller Trucking, we have a deep understanding of all requirements and regulations to ensure the safe transfer of all food and drink products.

Raw Goods and Materials

Factories and manufacturing facilities rely on a steady supply of materials to quickly create new products and goods. Stoller's tanker trucks are the ideal solution when transporting these raw materials. Our tanks and trailers are designed to safely and efficiently deliver non-hazardous materials such as gravel, sand, metal, and ores. By ensuring that manufacturing facilities have easy access to the goods they need, we help them maintain high productivity.

Breakbulk Shipping

Not all bulk products can be conveniently transported using stainless-steel tankers. For bulk goods that necessitate additional containers, such as drums, barrels, boxes, or crates, we offer secure and reliable shipping through our dry-van trailers (also known as breakbulk shipping). Furthermore, Stoller Trucking can assist your company in efficiently managing dry-van freight with our modern 53-foot van trailers.
Your Local Shipping Partners
Thanks to Stoller Trucking, reliable bulk transport for Cedar Rapids IA has never been easier to find. Our team of expert, certified truckers use high-quality, stainless-steel tankers, ensuring safe and secure delivery with easy loading and unloading. Some of what you can expect from Stoller Trucking's shipping services include:
Trained and Certified Drivers – To provide proper bulk delivery services, truck drivers must be fully trained and certified to operate the various tankers, trailers and equipment required for bulk transport. To this end, Stoller ensures our truckers get the required training, promising shipping that meets all state and federal standards.
Dedicated Tankers and Trailers – To avoid cross-contamination between product loads, Stoller dedicates specific tankers and trailers to only one or a few types of products. Furthermore, to ensure your goods always arrive in the quality they were sent, we thoroughly clean each tanker between shipments.
Full Loads – While breakbulk shipping gets the job done, you'll create more product waste and take more time to complete deliveries. Conversely, having tankers manage your bulk shipments ensures the maximum amount of product is always carried, and wasteful packagings like drums, barrels, bins and other containers aren't used.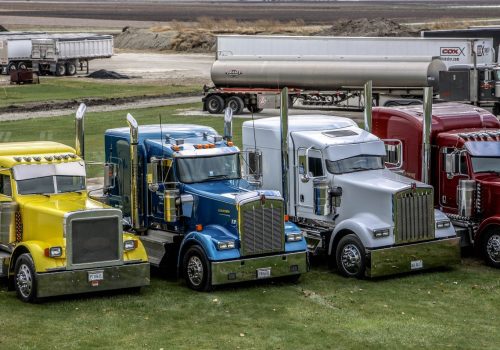 Talk with Stoller Today!
When searching for the best local trucking companies to meet your need for bulk transport in Cedar Rapids IA, business owners trust the experience and capabilities of Stoller Trucking LLC. Learn more about Stoller and our services by calling 309-308-1630 or emailing info@stollertrucking.com. Or, if interested in a career in trucking, fill out our career form here.