The Preferred Bulk Transport for Des Moines IA Businesses
When your facility's shipping and logistic needs are in question, you need help from Stoller Trucking! Especially for businesses or industries that move and use raw goods and materials, specialized delivery is required. Thankfully, Stoller Trucking has the experience, equipment and qualified drivers for managing bulk transport in Des Moines IA and the Midwest. If non-hazardous liquid/bulk shipping is your concern, alleviate those concerns with Stoller Trucking!
Is Bulk Transportation Right for Your Company?
When your facility uses raw goods, bulk transportation is an absolute must! Bulk transportation, with the right equipment and tankers, can vastly improve the shipping and delivery process. With the guidance of expert drivers from Stoller, you can guarantee safe, secure, and timely bulk deliveries. Thanks to bulk transportation, you can expect:
Expanded Loads and Less Waste

Containers such as barrels, bins, and crates can be used as a part of bulk shipping (breakbulk). However, while these containers serve the purpose of immediate transportation, you will likely need more loads to consolidate all your goods in one place. On the other hand, tankers eliminate the need for individual containers. Stoller Trucking's tankers optimize space for transporting raw goods, resulting in fewer loads required for each shipment and less packaging waste.

Qualified Truck Drivers

Meeting all legal requirements for bulk shipping across the U.S. necessitates specialized training and certification. However, your drivers may lack these certifications if you handle shipping in-house. Fortunately, Stoller Trucking's drivers are trained and certified to handle liquid and dry bulk transport using our state-of-the-art stainless-steel tankers. Our drivers possess the expertise to ensure the safety and security of your goods.

Dedicated Tankers

Although not a service provided by every bulk shipping company, Stoller Trucking guarantees the use of dedicated tankers and trailers for each shipment. By assigning specific tankers to certain products and materials, we prevent any risk of cross-contamination and ensure the safety and security of goods. Moreover, to further prevent contamination of your products, our tankers undergo thorough cleaning between loads.
Count on Stoller Trucking
In addition to the bulk transport for Des Moines IA we provide for businesses, Stoller Trucking also supplies expert dry van shipping across the Midwest. When you need quick, reliable and secure delivery of your consumer goods, clothing, appliances, furniture, industrial equipment, food products, and more, dry van shipping is your best option. Or, if you don't need shipping services, instead, apply for a job with Stoller! We're always hiring new drivers to join our trucking family. Whether as a company driver, owner-operator or independent carrier, we have the benefits and compensation you most desire!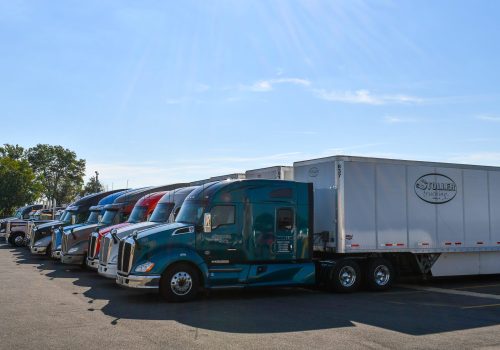 Call Our Office
If you urgently need bulk transport for Des Moines IA, don't fret! Count on the go-to shipping, delivery and logistic experts for Iowa and the Midwest: Stoller Trucking LLC. To learn more about our services, contact us today at 309-308-1630 or email info@stollertrucking.com. Or, if interested in a career in trucking, fill out our career form here.