Does Your Company Need Bulk Transport in Madison WI?
If you're part of a business or industry that moves, uses or produces a significant amount of raw products and materials, how will you move said goods? The answer is simple: fast, local bulk transportation and shipping! Trucking companies with trained and certified drivers and the right tankers and trailers can make short work of bulk shipping. If looking for local companies to manage your bulk transport for Madison WI, and throughout the Midwest, Stoller Trucking LLC is the number one choice.
Reasons for Requesting Bulk Transportation from Stoller
Tankers aren't the only way your company can transport bulk products. However, shipping companies specializing in liquid/bulk freight can help maximize your loads while ensuring your goods stay safe and secure during transit. A bulk transport in Madison WI is the preferred shipping method for most local industries due to:
Maximum Loads

If you lack tankers to transport raw goods, containers like barrels, bins and crates are used instead. While these containers work for immediate transportation, you'll likely require more loads to get all your goods to one place. Conversely, with tankers, there's no need for individual containers. Stoller Trucking's tankers maximize space for raw goods transport, meaning it takes fewer loads for each shipment.

Specialized Training

It takes specialized training and certification to meet all legal requirements for bulk shipping across the U.S. Unfortunately if managing shipping in-house, these certifications might not be something your drivers possess. Stoller Trucking's drivers are trained and certified to manage liquid and dry bulk transport via our stainless-steel tankers. Our drivers understand how to best keep your goods safe and secure.

Dedicated Tankers & Trailers

While not something every bulk shipping company will offer, Stoller Trucking promises dedicated tankers and trailers are used for every shipment. Keeping our tankers dedicated to specific products and material types avoids cross-contamination between goods and ensures products stay safe and secure. Additionally, to further protect the quality of your goods, our tankers are thoroughly cleaned between loads.
More from Stoller!
In addition to our non-hazardous liquid/dry bulk transport for Madison WI, Stoller Trucking provides clients with dry van shipping. Our dry van shipping is best for equipment, furniture, food, clothing and other consumer goods, and is the preferred shipping method for industries nationwide. Otherwise, if it's not shipping services you need, Stoller Trucking is hiring drivers of all experience levels! As a company driver, owner-operator or independent carrier, you can find exceptional benefits and high-compensation truck routes with Stoller.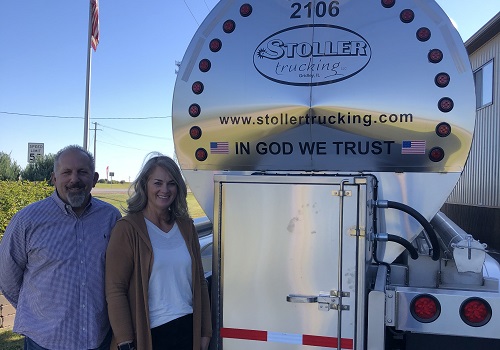 Find Shipping Services Near You
When your company needs to move bulk products quickly and securely, local businesses trust Stoller Trucking LLC for our exceptional bulk transport for Madison WI. To learn more about our services, contact Stoller Trucking at 309-308-1630 or email info@stollertrucking.com. Or, if you are interested in a career in trucking, fill out our career form here.