Does Your Business Require Dry Van Trucking in Springfield IL?
Shipping and delivery are a part of the majority of businesses' operations. Except for businesses that only offer service work, the transportation of goods is essential for commerce. Even service companies like contractors will require delivery of materials to a site. As such, local trucking companies can be your business's best friend! And if it's fast, high-quality, and affordable dry van shipping for Springfield IL you need, Stoller Trucking has you covered.
How You Can Take Advantage of Dry Van Trucking
Dry van trucking is the most sought-after method of transportation for businesses, and it's easy to see why! From the safety of dry van trailers to the protection they afford your goods from the elements, dry vans are the obvious choice for most shipping operations. As a business owner, you can count on dry van advantages such as:
Large Capacity Options

There are few load sizes that our fleet of trucks and dry van trailers can't handle! Stoller uses 53-foot-long dry vans with loading capacities of up to 45,000 pounds. However, you don't have to max out your loads. Stoller offers various pricing models for differing capacity options, including full truckload (FTL), partial truckload, and less than truckload (LTL). We work with your company to manage a budget that works best for what you transport.

Secure from Accidents, Elements & More

Stoller Trucking's number one priority is the care and safety of your goods in transit. To this end, dry van trailers are the best choice when protecting your goods from many external factors. These external factors include weather (sleet, rain, snow, etc.), potential accidents, and theft risk! Additionally, Stoller goes a step further to protect your goods: we use dedicated trailers for each load, ensuring no cross-contamination of your goods.

Transportation for Consumer Goods

If the goods you need to transport are non-perishable, dry van trucking in Springfield IL is your best option. At Stoller, we've hauled and delivered it all! From toys to industrial equipment, our dry van shipping covers almost anything you need to transport. Some examples of the products we've hauled before include electronics, clothes, industrial equipment, machinery and parts, food products, construction materials, and more. And for the bulk and liquid products that dry vans can't handle, Stoller offers non-hazardous liquid and bulk transport.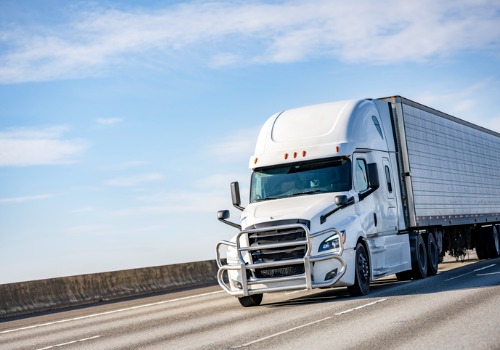 Why Not Consider a Career in Trucking?
If you're tired of your old office job, why not give truck driving a shot? Trucking is an incredibly lucrative profession, with plenty of opportunities for growth, advancement and independence. And when you drive with Stoller, you can access some excellent benefits and incentives for truck drivers. If you want to drive with Stoller as a company driver, owner-operator, or independent carrier, fill out our career form online!
Talk with Our Team
Dry van trucking in Springfield IL is the way to go when you require fast, safe and secure transportation of goods. And when you want reliable, experienced, and local drivers to manage your loads, it's time to give Stoller Trucking a call! To learn more about our services or job opportunities, contact Stoller today at 309-747-4521. Or, you can reach us via our contact form or email: info@stollertrucking.com.