Can Your Business Benefit from Dry Van Trucking in Peoria IL?
Absolutely! As a business producing and selling goods to consumers, shipping and delivery services are a must! And when it comes to dry van trucking in Peoria IL, local businesses trust Stoller Trucking. We are a family-owned company specializing in dry-van and non-hazardous liquid freight shipping across the Midwest. With our expert drivers, a fleet of over 75 trucks and trailers, and a dedicated dispatch team, we can easily manage your facility's shipping and delivery services.
What's Dry Van Trucking All About?
Dry van trucking for your goods is the best way to ensure they get to their location on time and in excellent condition. Stoller Trucking's drivers are all trained and certified to manage dry van shipping anywhere throughout the Midwest, with different capacity options and shipping for long-haul or local deliveries.
What Are Dry Vans? – You've likely seen hundreds of dry van trailers! Dry vans are wholly enclosed trailers used by most shipping companies and semi-truck drivers in the U.S. As such, dry van shipping is trucking companies' most requested shipping method.
What Are the Advantages of Dry Van Shipping? – With dry vans, you can guarantee your goods stay protected from factors like rain, wind, snow, sleet, and severe weather conditions. Additionally, dry vans help keep your goods safe in the case of an accident or potential theft.
How Large Are Dry Vans? – A standard dry van trailer measures 48-53 feet in length and has a carrying capacity of up to 45,000 pounds! Or, for smaller shipments, there are dry vans between 26-28 feet long, holding up to 22,500 pounds.
What Can You Haul with Dry Vans? – As long as your goods are non-perishable and not affected by extreme temperatures, dry van shipping is all you need. Stoller Trucking has helped clients deliver and transport products like electronics, food and drink, furniture, industrial equipment, packaged consumer goods, parts and machinery, building materials, and more.
What Can't You Haul with Dry Vans? – Dry van trailers are incredibly versatile but can't haul everything. Specialized tanker trailers are necessary for bulk products/materials and liquid bulk. Thankfully, Stoller Trucking also has shipping options for non-hazardous liquid and bulk freight!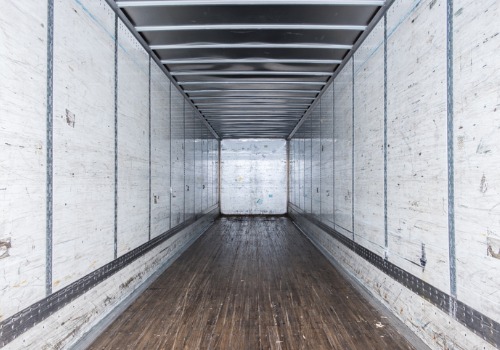 Looking to Start a Trucking Career?
Not only are we offering dry van trucking to Peoria IL businesses, but we're also looking for new dry van drivers! Stoller Trucking is hiring company drivers, independent carriers, and owner-operators for Illinois and routes throughout the Midwest. Our drivers receive some of our industry's best benefits and perks, including insurance coverage, sign-on bonuses, high-compensation routes, and more! Fill out a career form to learn more about Stoller's different job opportunities.
Give Stoller a Call!
Dry van trucking in Peoria IL and the Midwest is made easy when you partner with the local trucking experts at Stoller Trucking. To learn more about our shipping services or job opportunities, contact Stoller today at 309-747-4521. Or, you can reach us via our contact form or email: info@stollertrucking.com.