Do You Need Liquid or Dry Good Bulk Transport in Dubuque IA?
Then, count on Stoller Trucking to handle your needs for non-hazardous bulk transport in Dubuque IA. We specialize in non-toxic liquid tanker trucking and dedicated trailers for the bulk transport of dry goods. Our company gives your business access to a fleet of 75 trucks, large-capacity stainless steel trailers, and experienced trucking professionals. So, partner today with the fastest growing company for bulk transport in Iowa. We are authorized for transport across the country throughout 48 states. Contact Stoller Trucking now to receive a no-obligation freight quote for your liquid or dry goods.
Stoller Trucking places a priority on avoiding cross contamination by using dedicated trailers for dry van bulk transport in Dubuque IA. We haul only one or two kinds of goods in our dedicated trailers to protect the quality of your freight. Some other great benefits from our dry van trucking in Dubuque IA include:
Maximized Loads – We use 53-foot trailers that handle loads up to 45,000 pounds of freight! So, your business can streamline the transport of your goods by minimizing the number of loads it takes to get your products to your customers. With us, you get the benefit of trailers with the best strength-to-weight ratios in the trucking industry.
Customized Solutions – We scale our services to the needs of your business. Consequently, you can receive cost-effective services no matter how much freight you have. So, we can handle a full truckload (FTL) if you need it. However, we offer you the option of less than truckload (LTL) or partial truckload services if you need them.
Safety and Security – Our company keeps your products safe and secure with stainless steel trailers that come with features that keep them protected. Consequently, the quality of your goods will not suffer due to exposure to the elements. Plus, our trailers minimize the risk of loss due to theft during transport.
Stoller Trucking also offers some of the best non-hazardous liquid tanker trucking services available for bulk transport in Dubuque IA. Loading and unloading liquid goods can be a hassle without the proper equipment. However, we use trailers equipped with hoses, pumps, and other specialty equipment to make loading and unloading liquid products easier. In addition, our liquid tanker trucking services also offer the following benefits:
Lower Costs – Buying crates, drums, or tanks gets expensive when it comes to liquid bulk transport in Dubuque IA. Plus, your company will take on added expenses for multiple loads to transport your goods to customers. With Stoller Trucking, you can get better cost efficiency with tankers better equipped to handle your needs.
Better Safety – Our liquid tanker trucking services are also attractive because of the safety benefits. Our tanker trucks reduce the risk of spills. As a result, your company will suffer less product loss, less liability of damage to the environmental caused by spills and minimized risks of legal hassles due to spills.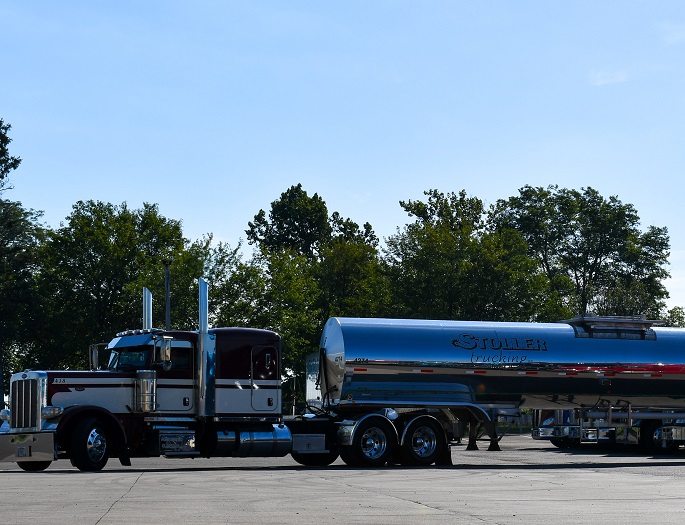 Then, you should consider beginning or switching up your career path by applying for local positions at Stoller Trucking. We are hiring for a host of driving positions including company drivers, owner operators, and independent carriers. Our company needs drivers to handle dry van trucking in Cedar Rapids IA as well as dry van trucking in Des Moines IA. Please fill out our online application if you are looking for the following career options:
Contact Us
Stoller Trucking can provide you with a free freight quote if your business needs to ship goods by bulk transport in Dubuque IA. Call us now at 309-308-1630 or fill out our online form to request your free estimate now. For nearly 30 years, we have exceeded expectations with our driver and customer partners by providing the best trucking professionals, equipment, and services.